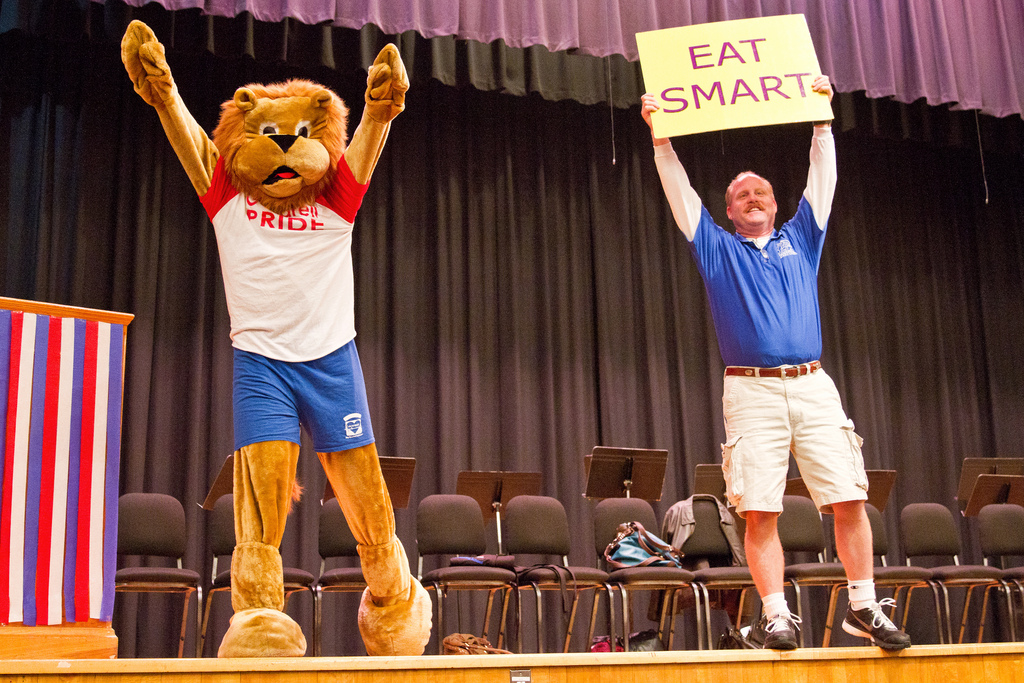 Advocate (n.) a person who works (argues) for a cause or group
In my line of work I have met many great P.E. teachers; but there will always be one that sticks out, John Walling. John is a middle school P.E. teacher at Goodrell Middle School in Des Moines. He has many qualities that make him unforgettable.
There is one quality in particular that sticks out about John and makes him an excellent advocate; he has an ability to influence and motivate an entire room of people to start or continue doing what needs to be done.
Being an advocate is more than "arguing for a specific cause or group" or "talking the talk;" it has a lot to do with "walking the talk." To John, it doesn't matter how much work is on his plate; his motto most definitely is "if it's good for the kids, we will do it," He has always found a way to get it all done, namely because of his ability to convince others it is the right thing to do. There is no such thing as a "full plate" for John.
John has his school involved in Live Healthy Iowa Kids, Fuel Up to Play 60, Alliance for a Healthier Generation and HealthierUS School Challenge. Just last year, Goodrell was awarded a Gold Award with the HealthierUS School Challenge. Over the past three years while Goodrell was working toward their award, John and his team has worked towards revising menu items, modifying vending machine options, offering healthier fundraising opportunities, increasing P.A. during the day, modifying food options at after-school functions and eliminating the use of food as rewards in the classroom.
If we all adopted this can-do attitude; where would we be at today? Would we be experiencing the obesity epidemic that is currently happening? Maybe our goals for 2014 should be focused on how we can be more involved in our school, community or organization!
Enjoy the following testimony's from John's colleagues….
"John is an exemplar educator who has the passion and drive to give each individual student an opportunity to be healthy and successful. John is such an advocate for students by always being willing to try new ideas that will help benefit students health. He drives not only the students to take care of their well-being but also staff within the building. We are so proud to have John apart of DMPS P.E. department."
Carlye Satterwhite, P.E. Curriculum Coordinator, Des Moines Public Schools.
"John is certainly an advocate for students.  He is one of the most passionate physical education teachers I have ever encountered.  The students love him and he truly loves them.  He does not just educate them physically he also tries to build the total person- mind, body and spirit.  I have heard him at freshman football practice talk about the importance of being a good person as much as being a good football player.  He gives life's lesson every day to all of his students.  He makes sure that any program that would enhance his students health, he promotes.  Their school has received multiple honors for their outstanding physical education and entire school wellness programs.
Goodrell Middle school should be a model for all middle schools.  Great administrators, teachers and kids who know they are cared for.  The atmosphere in their school is phenomenal.
John served enthusiastically on the Governor's Council for Physical Fitness and Nutrition and was a great contributor to the successes the Council.
Other than the fact he is an Alabama fan and is now in hibernation, he is one of the great teachers and examples for youth in Iowa."
-Jim Hallihan, former Iowa Sports Foundation Executive Director