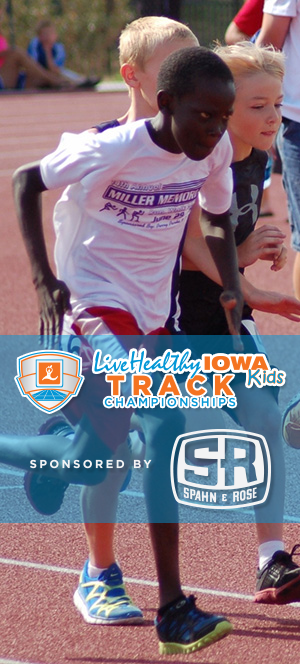 Want to host a local meet but not sure how to get started? Many meets are hosted through local Parks and Recreations, YMCAs, or within the local community school district. If run through the schools, this is typically run in conjunction with track and field days or during PE classes. For more information on hosting a meet, click on the documents below:
Local Meet Checklist & Volunteer Info
Meets must be completed between mid-April – May 31st.
Sites can begin registering to host a meet beginning December 1, 2022. Once available, a link will be posted here.
__________________________________________________________________________________________________
Why Host a Meet?
"The Live Healthy Iowa Track Meet gives all my students the opportunity to experience what a track meet will be like at the junior high level, It's also a great way for our community to come together and support our school district. I highly encourage other elementary schools to give it a try. It's great for building that relationship with your local Parks and Rec department and offering your students a fun and competitive alternative to a school field day." – Clint Driftmier, P.E. Teacher at Lakewood Elementary (Norwalk, IA).
"The LHI Kids Track Meet is the best way to introduce younger kids to track and field! Super easy to organize, a blast for the kids and always easy to find volunteers. The prospect of advancing to the State Meet makes it even more exciting for the kids. It's a great way to encourage a healthy
lifestyle at a young age!" – Teresa Beck, Volunteer Spirit Lake Noon Kiwanis (Spirit Lake, IA)