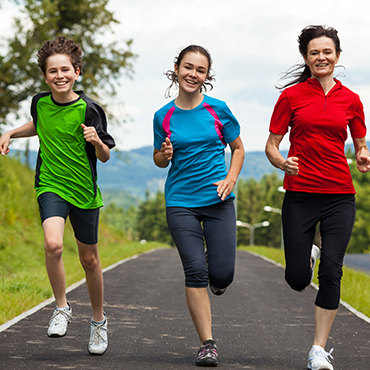 Go the Distance May is a month-long event highlighting the importance of physical activity as part of a healthy lifestyle. This year's event will again be open to schools, youth organizations, families, and households.
This FREE event, celebrating active and healthy Iowans, takes place from May 1-31. Those participating can choose any day and time to take part by creating a fun, active event to get everyone moving for at least 30 minutes. Simply plan, register, and share! We'll be awarding prizes this year so don't forget to share your event!

Let's Get Moving, Together!

1. PLAN your 30-minute activity. Walking and running are great, but let's get creative for this special event. Make your own fitness stations, build an obstacle course, plan an outdoor scavenger hunt, explore a nearby trail! Did I hear someone say dance party?!
2. REGISTER online to be part of the statewide event
3. SHARE your registered activity on social media, tagging Live Healthy Iowa and using #GoTheDistanceMay, or submit photos via email to info@livehealthyiowa.org.
We can't wait to see Iowans across the state "Go The Distance" in May!


BONUS! Schools and Youth Organizations registered by May 1 will be included in a drawing to win $250! Families/Households registered by May 1 will be included in a drawing to win a $50 Scheels gift card!

Questions?
We're happy to help! Connect with us by email at info@livehealthyiowa.org.